Flood-Relief activities in Kerala
The Council of Providence Region of Schoenstatt Fathers established a commission to coordinate the flood-relief activities in Kerala. Fr. Johnson Panthappillil, Fr. Roy Venookaran and Fr. Binoi Pannel were appointed as the members in the flood-relief team. The team members visited different families and distributed food and cloth as an immediate help. The relief-team has taken the next step that is to rebuild the damaged and destroyed houses in the flood. Fathers are guiding the youth to clean and repair the houses and the surroundings after the flood.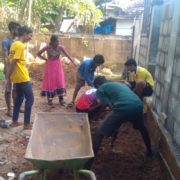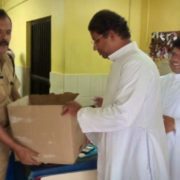 OUR MISSION
OUR MISSION is to form free, firm and spiritual personalities, who aim at the realization of God given purposes of one's life, and thus to create a culture of love and life by forming the children youth and the familes.
OUR VISION
OUR VISION is to promote a society of integral personalities based on healthy psycho, socio and spiritual foundation. It includes the cultivation of a culture of covenant of love for life basing on pedagogical principles of formation
CONTACT US
Sion Centre
Schoenstatt Fathers
Kuttur, Thrissur
Pin 680 013 Kerala
Ph: 0487 23 83 001
0487 23 83 306
E-Mail: sioncentre@gmail.com